Rick Krueger ( b | t ) and I are going to Kansas City and East Iowa.
Why you say…
Well let me tell you… We were fortunate enough to have our abstracts selected for both SQL Saturday events, we are also submitting for SQL Saturday #149 in our home state of Minnesota.
At SQL Saturday #159 in Kansas City we were notified that two of our abstracts had been selected. Currently we are scheduled to present Freaky Fast Development Tips in Database Development – Room: Room 4 at 1:00 PM. Then we follow that up with SSRS: Reporting on Reports – Business Intelligence – Room: Room 3 at 2:30.
Then one week later at SQL Saturday #161 in East Iowa we are scheduled to present Freaky Fast Development Tips in Room 3 – Room: 2520B (Conference Room) at 3:30 PM.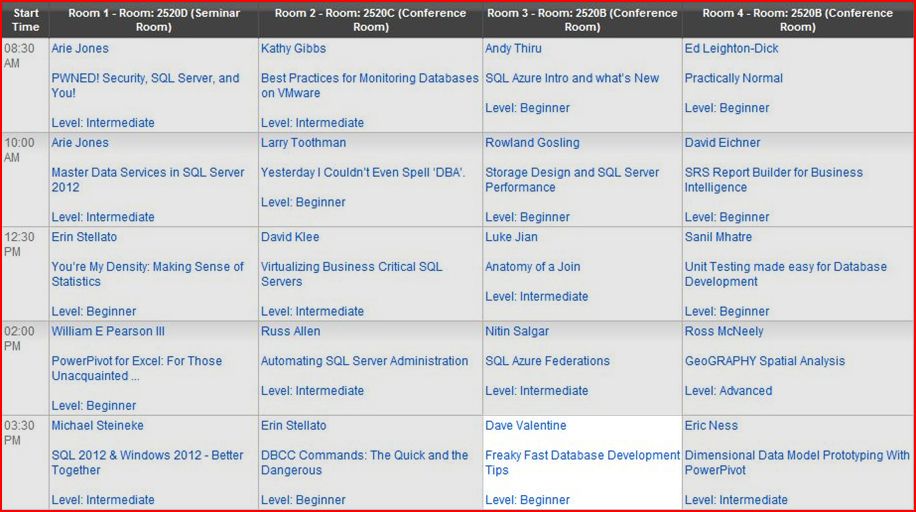 If you are going to either event, stop by and say hi, check out our sessions, we love to talk and look forward to meeting you. Hope to see you in Kansas City, East Iowa, and possibly Minnesota
Freaky Fast Database Development Tips
Join Rick and Dave on this most excellent adventure as they teach you how to get more work done in less time. Leave your checkbook at home, because this is all about maximum productivity with minimum budget. Leave with Visual Studio and SQL Server Management Studio shortcut keys, extensions, macros, and add-ins. We guarantee you will see something you haven't seen before, or your money back. Co-Presenter: Rick Krueger (@DataOgre)
SSRS: Reporting on Reports
Business Intelligence gets a lot of press these days, but do you often wonder to yourself as you are writing a report, 'Who is going to use this'? Learn about the rich information that SSRS is already capturing for you about your reports: who is running them and how often, how long do they take to execute, how much time is spent in data retrieval vs rendering, which parameters were passed in, and more… Co-Presenter: Rick Krueger (@DataOgre)
Inspired by David Klees ( b | t ) blog post Speaking in Kansas City and Iowa City! whom will also be presenting at both events with Andy Galbraith ( b | t ).